It's no secret that TikTok is the next big thing in social media. If you are one of those businesses looking to cash in on this new media, this article is for you. In this article, we will look at some of the most popular and talented Tiktok influencer in Malaysia that can help you with your Tiktok marketing campaign.
Why TikTok Influencer Marketing?
In Malaysia, TikTok has overtaken Facebook as the most popular social media platform among teenagers and young adults.
TikTok has 14.59 million users in Malaysia aged 18 and up in early 2022, according to data released in ByteDance's advertising resources. TikTok, as of the year 2022, has more downloads than any other smartphone app in Malaysia.
When compared to other countries, Malaysia's Tik Tok acceptance and usage were the sixth highest in the world. By 2026, the number of users is expected to have increased by 52%.
Four million Malaysians use TikTok, with the vast majority (71%) being under the age of 30 and the next largest demographic (41%) being 16-24 years old. TikTok users in Malaysia are predominantly female (56.8%), with men making up 43.2% of the user base.
As more people turn to short stories platforms like TikTok and Instagram instead of Facebook, TikTok is becoming an increasingly important platform for businesses to reach out to potential prospects.
Why Should Businesses Consider Using TikTok To Promote?
TikTok is one of the most popular social media platforms, and it is gaining more popularity among people of all ages. TikTok can be used as a marketing tool because it has millions of users who are active every day.
This app is a great way to promote your business because:
1. You can reach a younger audience
TikTok is the second most popular social media app among teens after Instagram. If you want to reach a younger audience, TikTok is the way to go!
2. You can get more followers fast
TikTok has more than 1 billion users worldwide — that's a lot of people! And unlike other platforms where it takes months or even years for your account to grow organically, on TikTok your account can quickly gain thousands of followers in just 24 hours!
3. Growing audience base
With 15 million users in Malaysia alone, there is no doubt that this platform can help you gain exposure for your business. It's also one of the fastest growing social media platforms out there with almost 20 million new users joining every month!
4. It provides an engaging experience
Users love creating funny videos on TikTok and sharing them with their friends and family – even celebrities like Kylie Jenner are active on the platform! This means that there is a huge opportunity for businesses to engage with their customers through this channel too!
5. It's highly visual
TikTok is all about creating and sharing short videos with friends and family members. This makes it perfect for businesses that want to show off their products through photos or videos without having to rely on text alone.
What Are TikTok Influencers and How They Can Help Your Business?
TikTok influencers are people who have large followings on TikTok, either by having a lot of followers or by being able to get a lot of views on their videos. They can be anyone from celebrities like Ariana Grande and Shawn Mendes, to everyday people like you and me.
TikTok influencers are great because they already have an audience that follows them on this platform; therefore, they can help you reach out to more people in your niche or target market. In turn, this will help bring in more traffic and sales for your business.
The best way to promote your business on TikTok is by collaborating with an influencer who has a large following in Malaysia. The idea behind this is to get your product or service in front of as many people as possible and increase brand awareness.
TikTok influencers can help you reach your target audience and get more customers for your business.
Here's how:
They have a large following.
They influence their followers.
They can help you spread your message through the app.
Top 12 TikTok Influencers in Malaysia
We have compiled this list of the top 12 TikTok influencers in Malaysia. These are the people who have the highest number of followers on TikTok and are also the most popular on Instagram.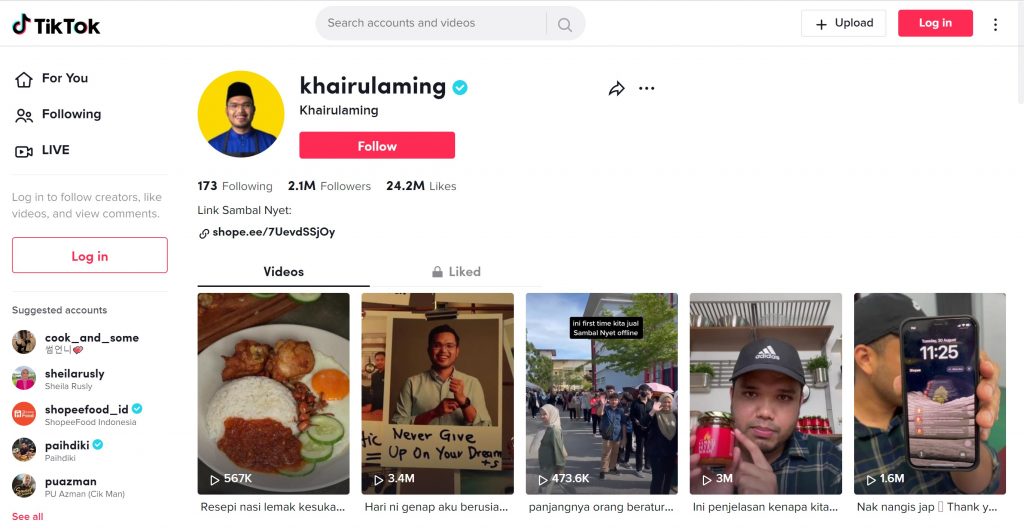 Khairulaming is a Malaysian-born social media influencer who has amassed a following of 1.6 million on TikTok. He is known as the top TikTok influencer in Malaysia for his creativity and humor. He has over 300,000 followers on Instagram, making him one of the most popular TikTok influencers in his country. His videos are often about food and include him singing along to popular songs. He always uploads unique and creative food videos on his account. His food videos are attractive and interesting to his followers. If you have seen some of his videos, you must have loved them!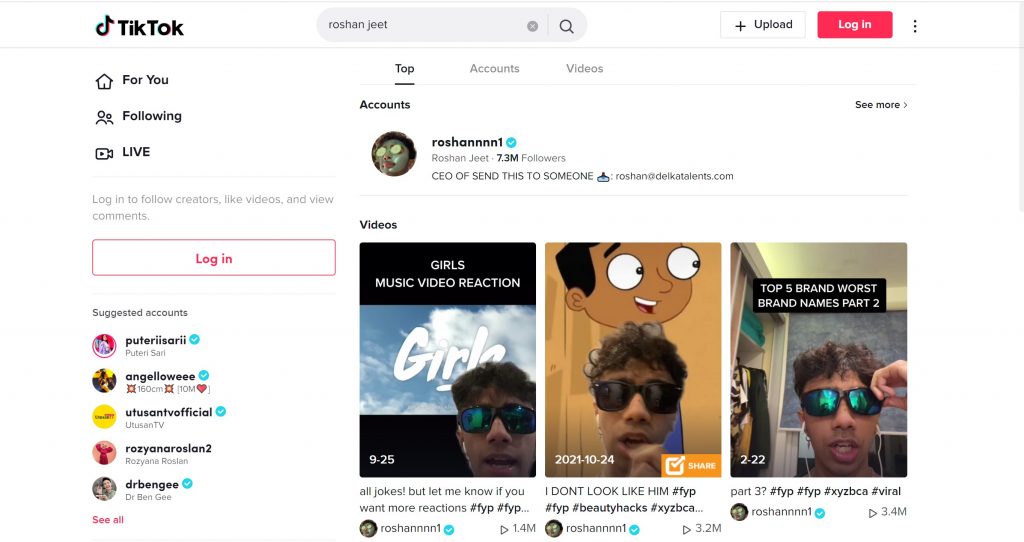 Second on our list is Roshan Jeet. He has become a viral sensation because of his parody videos in which he alters the lyrics of hit songs. He also polls his audience with questions on TikTok to see what they want to see next.
When it comes to creating his material, Roshan develops his scripts. His 7 million TikTok fans are always impressed by his creativity.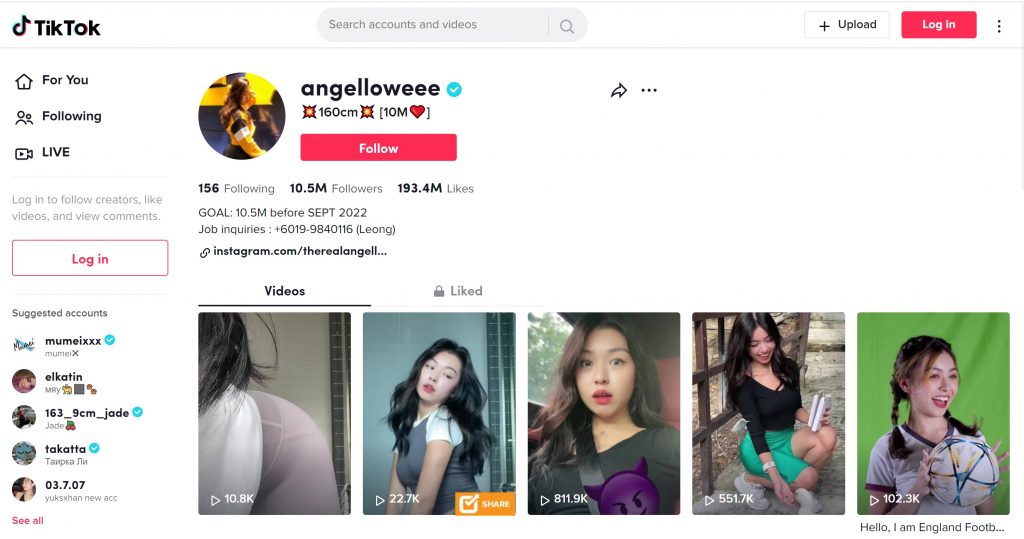 The majority of Angel Lowee's TikTok stream is devoted to her various dancing skills and easy how-to videos for doing out at home. She captured the interest of Malaysian TikTok followers not only with her videos on fitness and health but also with her luxurious way of living. She is a great icon in the worlds of fashion, beauty, and health.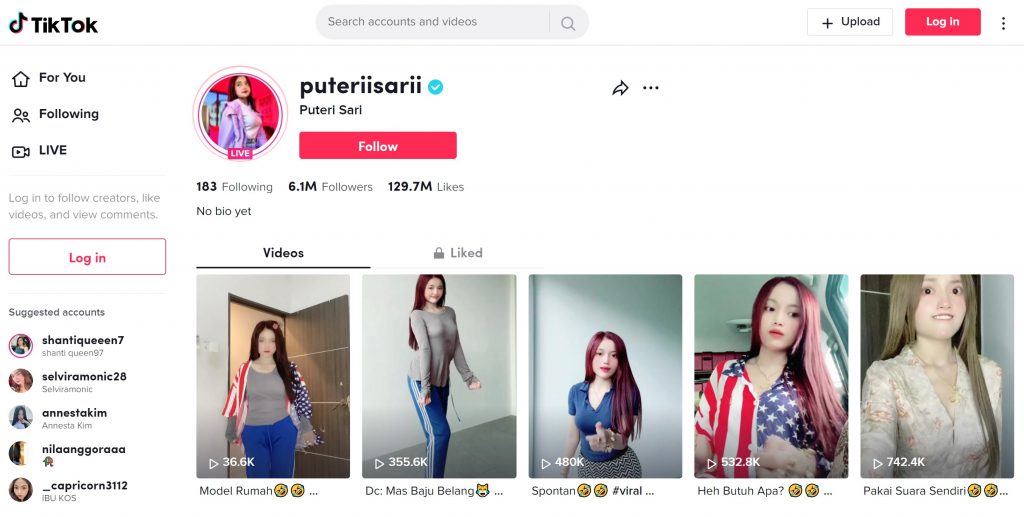 Puteriisarii is an incredible TikTok influencer who has amassed a following of over 6.1 million in a short time.
She's known for her quirky and funny videos that are sure to make you laugh out loud. From candid moments with her family to classic meme parodies, Puteriisarii covers it all—and does so in a way that makes you feel like you're hanging out with a friend.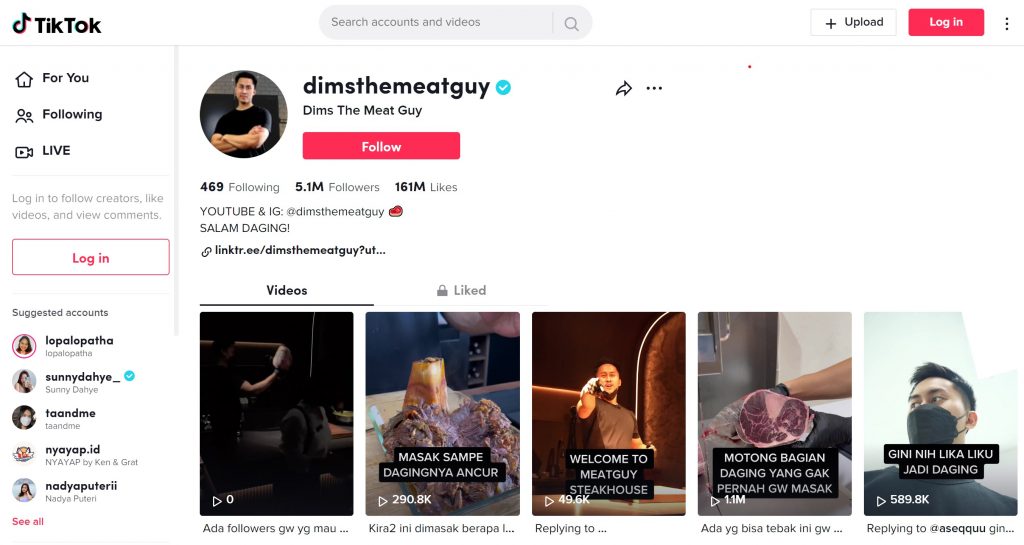 Dimsthemeatguy is a TikTok influencer in Malaysia who has made a name for himself by showing off his cooking skills. He started as a chef and has now become an internet sensation with over 5 million followers on TikTok.
His hardcore love for meat has earned him widespread acclaim among Malaysians of all ages.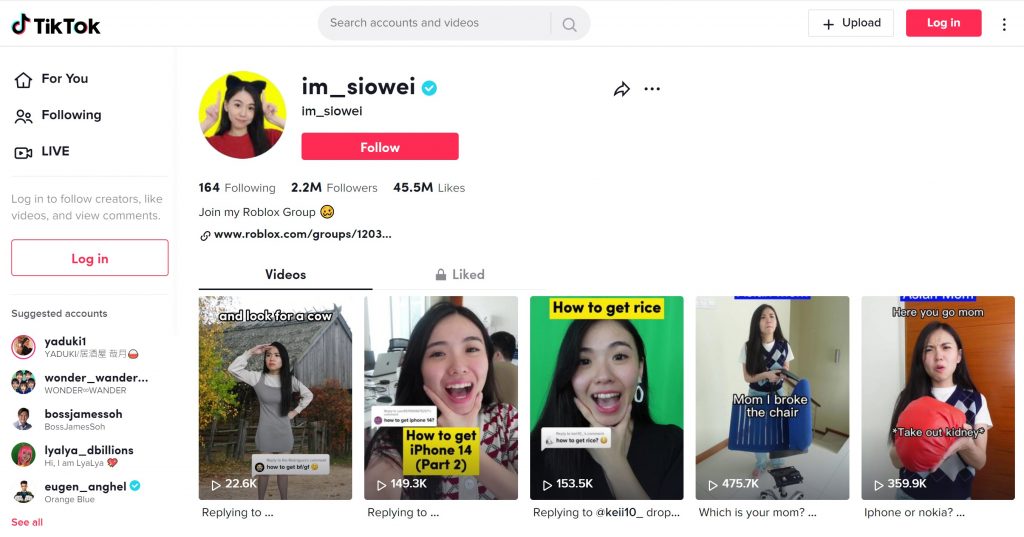 If you're a TikTok fan, you've probably heard of I'mSiowWei. The multi-talented influencer has made a name for herself by combining her love of acting with some truly awesome music videos. She's also known for her incredibly entertaining comedy sketches, where she plays everything from a mom to a teacher.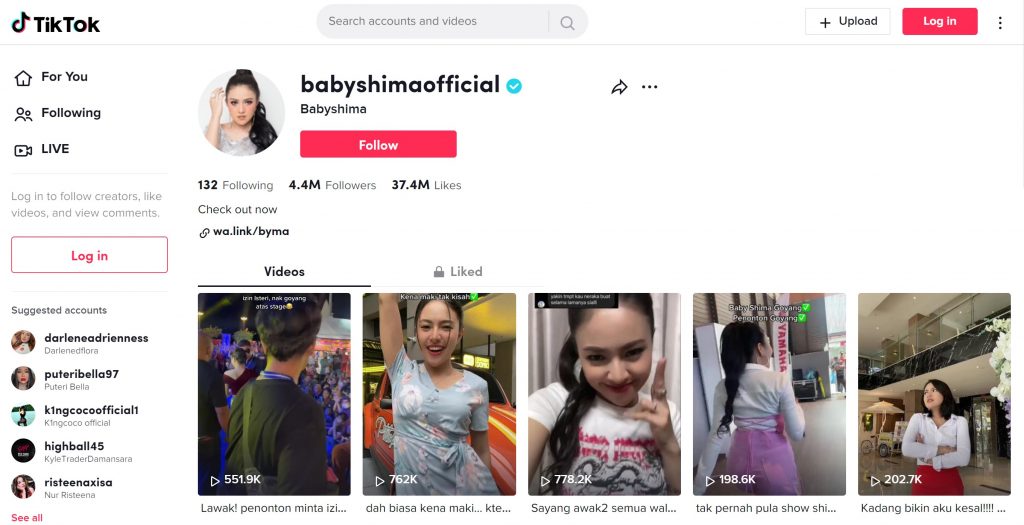 Famous in both Malaysia and Indonesia, Nor Ashima Ramli performs under the stage name Baby Shima. This music star's amazing talent has made her a viral sensation. Besides being famous on YouTube, she has a large online following on other social media platforms. She has a tonne of vlogs, performance videos, and brand cooperation videos on her TikTok account.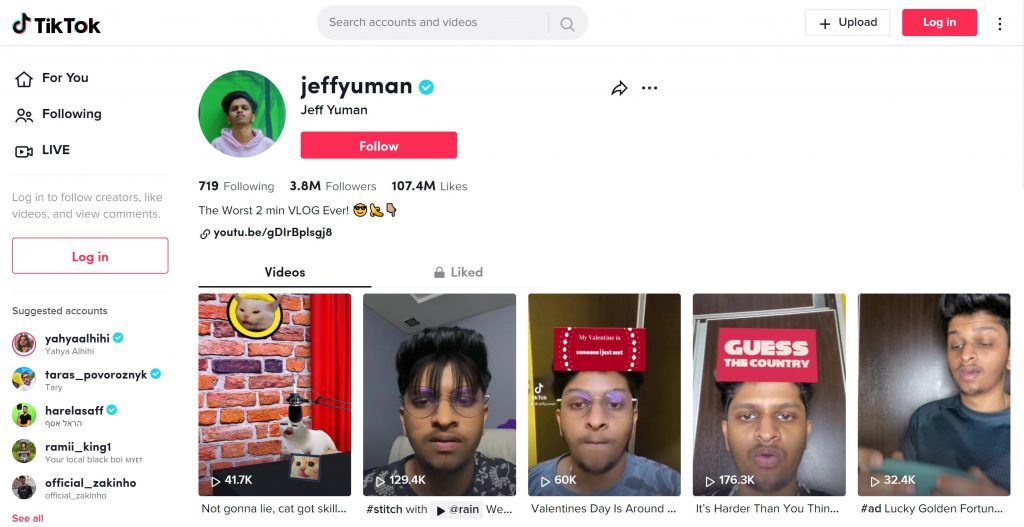 In the latter half of 2019, Jeff Yuman started routinely uploading to TikTok. He feigned losing his smartphone in the toilet in one of his earliest videos. Since this comedy went viral, he now has millions of Malaysians as followers.
He gained notoriety for a variety of viral films featuring card tricks and other comedy skits. Throughout his time on TikTok, he gained over 3.9 million followers and 100 million likes because of his immense popularity.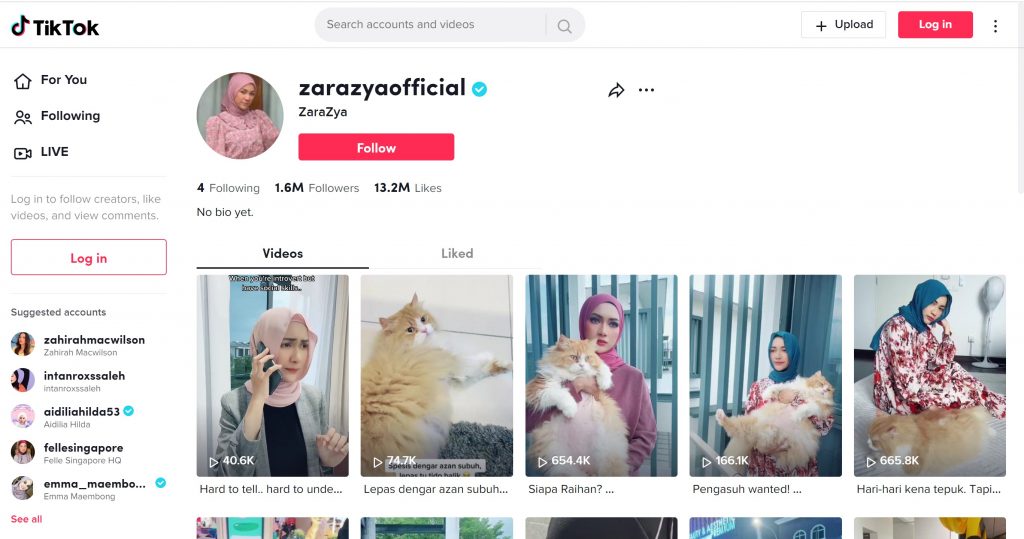 We're not surprised that Zarazya is one of our top TikTok influencers in Malaysia. Her videos are quirky and fun, and she always looks like she's having a blast. We love her videos because they're so relatable—she's just like us!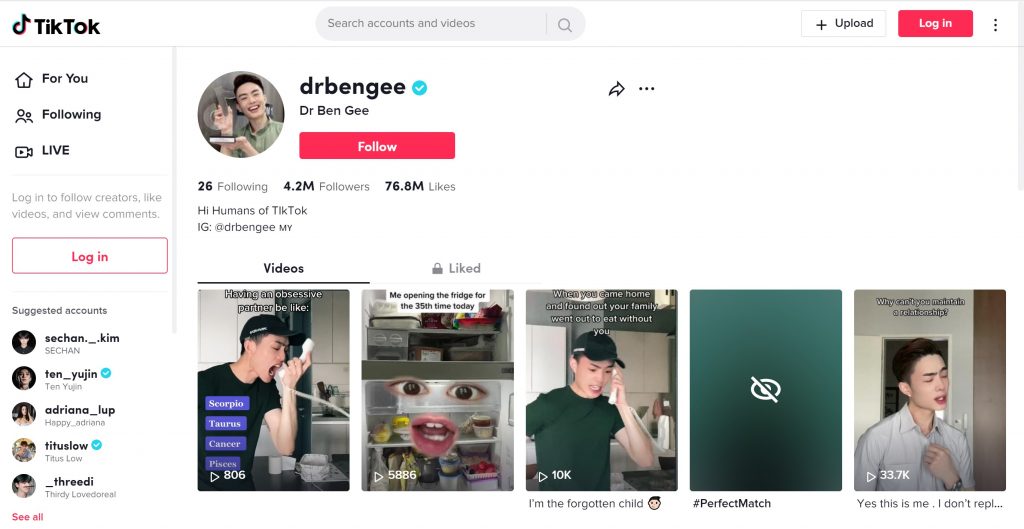 Next up comes Dr. Ben Gee, a dentist, dancer, and internet celebrity. While also posting dance covers, lip sync videos, and comedy sketches to his TikTok account, he uses it to educate his fans on the importance of dental care and general wellness.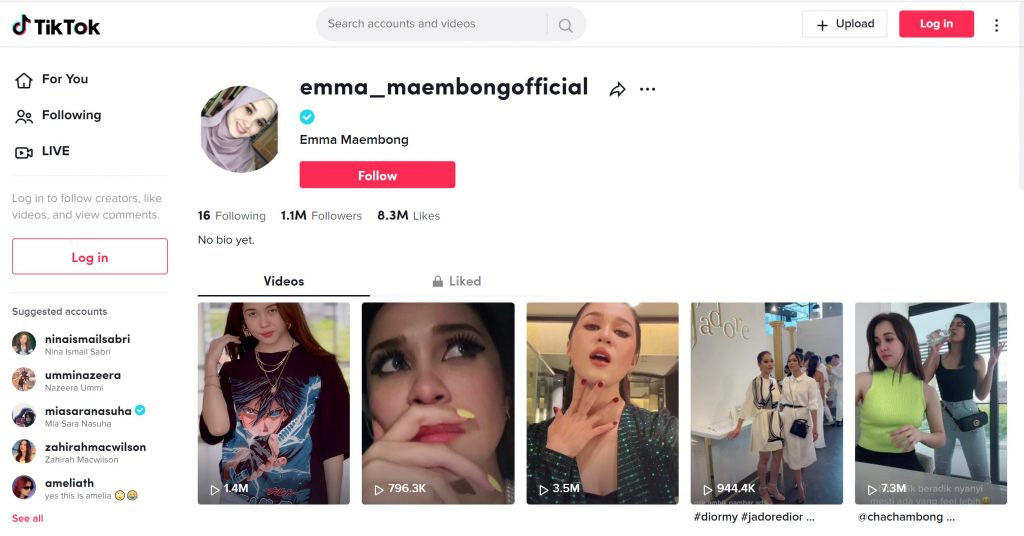 Emma Maembong is a TikTok influencer who has made it to the top 12 list of TikTok influencers in Malaysia. Emma is a young Malaysian girl who has won the hearts of many people with her amazing content on TikTok. She is a very talented singer and dancer, who also does some acting as well. Her followers love watching these videos because they are high quality and very entertaining.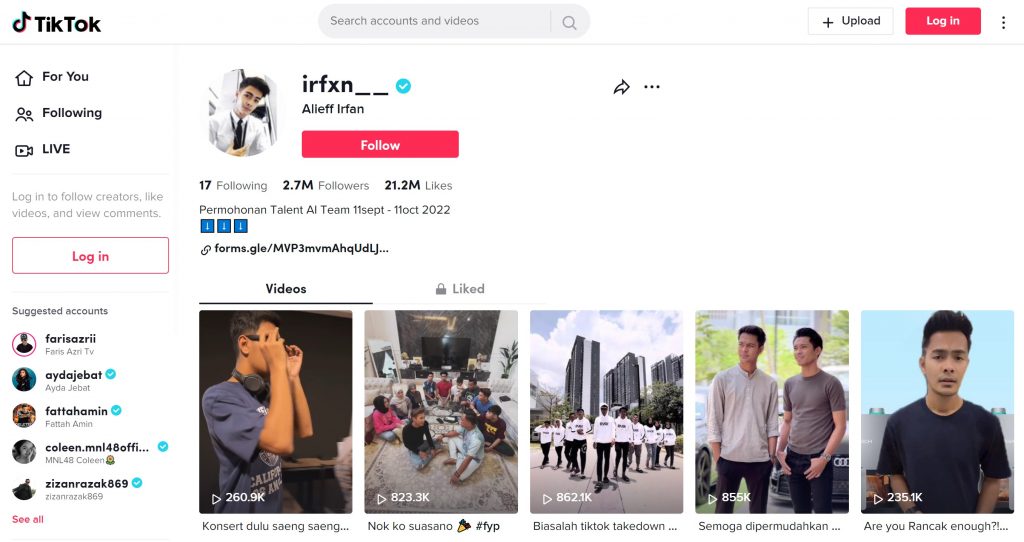 Alieff Irfan is perhaps the most successful and well-known Malaysian YouTuber and Tiktok influencer. Now Alieff has become a force to be reckoned with on the popular video-sharing app TikTok. More than 2.5 million people follow Alieff on that app, and his posts have received 18.6 million likes.
His account features regular updates on Alieff's investing efforts. He also enjoys playing video games and tinkering with electronic gadgets, and he has a passion for sports cars. Not only that, but he enjoys giving out free stuff to his followers.
Final Words
TikTok is one of the most popular social media platforms in Malaysia, and it's not just a fad. It has become a way of life for many people, especially the younger generation.
Businesses that want to reach out to this audience should start taking TikTok seriously. Not only will they be able to better connect with their potential customers, but they can also find influencers who can help them reach out to them.